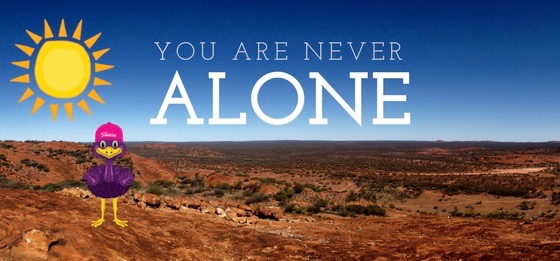 Cooee!
Gidday everyone. It's Shazza the Emu. And I want to tell you all today that Jesus is my best friend. That's right. He is always there for me when I need Him. 
You see, you all know that my friend Dazza the red Kangaroo and I live in the desert. Well, the desert is like being all alone sometimes because you feel as though you are so far from everyone.
I mean, there's lots of red sand, trees, spinifex and blue sky, but there's not many shops to visit. Too right vegemite. Some towns are 500kms a part. 
  
But having Jesus as my friend, means He's always with me and I don't need shops and cities around me to not feel alone. Does that makes sense?? Well, let me explain by looking in the Bible. 
  
  
Deuteronomy 31:6 
Be strong and of good courage, do not fear nor be afraid of them; for the Lord your God, He is the One who goes with you. He will not leave you nor forsake you." 
  
The last part of Hebrews 13:5 says 
 "I will never leave you nor forsake you."
  
Joshua 1:9 
Have I not commanded you? Be strong and of good courage; do not be afraid, nor be dismayed, for the Lord your God is with you wherever you go." 
  
The first part of Isaiah 41 :10 says 
Fear not, for I am with you; 
Don't you think Jesus is trying to get something through to us all? You see, it's everywhere in the Bible about Him being with us ALL the time. 
  
So the next time you feel alone, just ask Jesus to be your best friend, problem solved. He will never ever let you down and He will never ever leave you. 
Oky Doky, that's it for today, I thought I'd just share that with you. 
  
Hoorooo!